The Thriving Gardening System is the only gardening system that will help your family grow tons of healthy organic food and at the same time help families around the world to achieve self sufficiency themselves. Our system is so simple that anyone can do it in any amount of space. Whether you live on a farm on on the 50th floor, you can have a healthy nutrition garden.  Remember that every purchase you make from our store will help support our programs around the world.
Why grow you own garden?
Health – Micro-nutrients replenish body, fresh and raw foods build strong immune systems and combat disease.
Cost – $50 spent in seeds and compost can produce $1,250 worth of organic produce. A savings of $1,200.
Taste – Fresh vegetables, fruit and herbs are harvested at peak levels for taste and nutrition .
Organic – You decide what is used in your garden, GMO free, organic, water supply, pesticides, heirloom – what is your choice?
Sustainable – once you plant a garden, you can continue to feed yourself and family continuously year after year.
You can get more detailed information on how you can grow the most amazing gardens. Click the banner below or HERE to be taken to our partner website where you can get information and supplies!
Self sustainable
Click on the tabs below to learn more about the real benefits of growing your own food.
Gardening for Physical and Mental and Emotional Health
Gillian Aldrich started growing vegetables in her backyard three years ago, and she's now working on planting a bed of hydrangeas, butterfly bushes, ro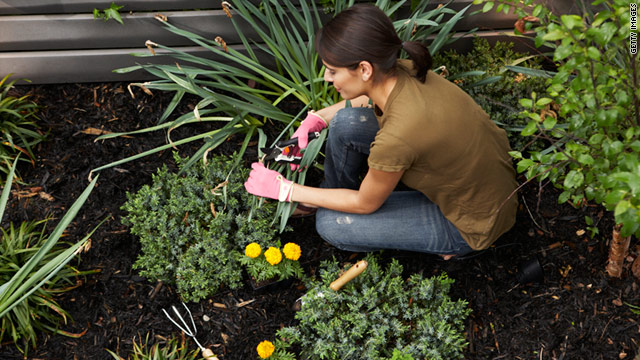 se campion, and — her favorite — pale-pink hardy geraniums along one side of her property.
As she digs in the garden, her 8-year-old daughter and 3-year-old son often play around her, sometimes taking a break to dig for worms or pick strawberries.
Instead of watching them, Aldrich is playing, too — "my kind of play," she says.
"When you sit at a desk all day, there's something about literally putting your hands in the dirt, digging and actually creating something that's really beautiful," says Aldrich, 42, a magazine editor in Maplewood, New Jersey. "There's something about just being out there that feels kind of elemental."
Aldrich isn't the only one who feels this way. Many gardeners view their hobby as the perfect antidote to the modern world, a way of reclaiming some of the intangible things we've lost in our busy, dirt-free lives.
The sensory experience of gardening "allows people to connect to this primal state," says James Jiler, the founder and executive director of Urban GreenWorks, a Miami-based nonprofit that creates garden and park programs for low-income neighborhoods.
"A lot of people [understand] that experience. They may not be able to put it into words, but they understand what's happening."
Working in the garden has other, less spiritual rewards. In addition to being a source of fresh, healthy produce, gardening can ease stress, keep you limber, and even improve your mood.
Here are just a few of the ways gardening can benefit your physical and mental health, and how you can start harvesting those benefits for you and your family.
Stress relief
A recent study in the Netherlands suggests that gardening can fight stress even better than other relaxing leisure activities.
Better mental health
The effortless attention of gardening may even help improve depression symptoms.
In a study conducted in Norway, people who had been diagnosed with depression, persistent low mood, or "bipolar II disorder" spent six hours a week growing flowers and vegetables.
After three months, half of the participants had experienced a measurable improvement in their depression symptoms. What's more, their mood continued to be better three months after the gardening program ended. The researchers suggest that the novelty of gardening may have been enough to jolt some of the participants out of their doldrums, but some experts have a much more radical explanation for how gardening might ease depression.
Christopher Lowry, Ph.D., an assistant professor of integrative physiology at the University of Colorado at Boulder, has been injecting mice with Mycobacterium vaccae, a harmless bacteria commonly found in soil, and has found that they increase the release and metabolism of serotonin in parts of the brain that control cognitive function and mood — much like serotonin-boosting antidepressant drugs do.
Digging in the dirt isn't the same as taking Prozac, of course, but Lowry argues that because humans evolved along with M. vaccae and a host of other friendly bugs, the relative lack of these "old friends" in our current environment has thrown our immune systems out of whack.
This can lead to inflammation, which is implicated in a host of modern ills, from heart disease to diabetes to depression.
"By reintroducing these bacteria in the environment, that may help to alleviate some of these problems," Lowry says.
Exercise
Gardening gets you out in the fresh air and sunshine — and it also gets your blood moving.
"There are lots of different movements in gardening, so you get some exercise benefits out of it as well," says William Maynard, the community garden program coordinator for the City of Sacramento's Department of Parks and Recreation.
Gardening is hardly pumping iron, and unless you're hauling wheelbarrows of dirt long distances every day, it probably won't do much for your cardiovascular fitness.
But digging, planting, weeding, and other repetitive tasks that require strength or stretching are excellent forms of low-impact exercise, especially for people who find more vigorous exercise a challenge, such as those who are older, have disabilities, or suffer from chronic pain.
As a pleasurable and goal-oriented outdoor activity, gardening has another advantage over other forms of exercise: People are more likely to stick with it and do it often.
"It's not just exercise for exercise itself, which can become tedious," says Katherine Brown, the executive director of the Southside Community Land Trust, a nonprofit that supports community gardens and other urban agriculture in and around Providence, R.I. "It's exercise that has a context, that reinforces the limberness of your limbs and the use of your hands. You've got a motivation for why you want to grip. You're not just gripping a ball, you want to pull a weed."
Brain health
Some research suggests that the physical activity associated with gardening can help lower the risk of developing dementia.
Two separate studies that followed people in their 60s and 70s for up to 16 years found, respectively, that those who gardened regularly had a 36% and 47% lower risk of dementia than non-gardeners, even when a range of other health factors were taken into account.
These findings are hardly definitive, but they suggest that the combination of physical and mental activity involved in gardening may have a positive influence on the mind.
And for people who are already experiencing mental decline, even just walking in a garden may be therapeutic. Many residential homes for people with dementia now have "wander" or "memory" gardens on their grounds, so that residents with Alzheimer's disease or other cognitive problems can walk through them without getting lost.
The sights, smells, and sounds of the garden are said to promote relaxation and reduce stress.
Nutrition
The food you grow yourself is the freshest food you can eat. And because home gardens are filled with fruits and vegetables, it's also among the healthiest food you can eat.
Not surprisingly, several studies have shown that gardeners eat more fruits and vegetables than their peers.
"People who are growing food tend to eat healthy," says Brown. "The work that we do here with kids demonstrates it on a daily basis, throughout the seasons."
Studies of after-school gardening programs suggest that kids who garden are more likely to eat fruits and vegetables. And they're a lot more adventurous about giving new foods a try, says Anne Palmer, who studies food environments as the program director of Eating for the Future, a program based at the Johns Hopkins School of Public Health Center for a Livable Future, in Baltimore.
"I've watched a lot of cooking and gardening classes with kids," Palmer says. "It's amazing how many of them will try things like radicchio or some kind of unusual green that has a pretty strong flavor, like arugula, and they'll say, 'Wow, this is good.'"
Not to mention that homegrown produce simply tastes better.
"It's incomparably more delicious to eat something that's fresh," Brown says.
Read the Original  article here:
http://www.cnn.com/2011/HEALTH/07/08/why.gardening.good/index.html
Food Safety
Food recalls from many types of problems is a problems that affects many of us. According to a foodsafetynews.com report, food recalls are rising. An article posted HERE, talks about some of the concerns with these recalls. Here are some of the highlights:
…Food recalls in the third quarter reached 414 separate incidents, according to the ExpertRECALL™ Index, which is complied from U.S.
Food and Drug Administration (FDA) Enforcement Reports. There were 2.5 times the number of food recalls in the third quarter of 2012 than the second quarter….
…Among the 414 food-related incidents, FDA Enforcement Reports
show that 58 percent were Class I recalls, meaning they  were in the category of problems that pose the greatest threat to public health. Another 38 percent were Class II recalls and 4 percent were Class III…
http://www.huffingtonpost.com/news/food-recalls/
Food Inflation Costs
1) Milk: A gallon of pasteurized, homogenized whole milk was priced around $2.75 back in 2002. But today, that same gallon of processed milk costs about $3.47, representing a 26 percent increase.
2) Bread: If you typically buy bread from the store, you are likely paying 39 percent more per loaf today than you were 10 years ago. An average loaf of bread today costs $1.41, up from $1.01 back in 2002.
3) Peanut butter: A 16-ounce jar of conventional peanut butter in 2002 would have cost you around $1.96. But today, that same jar would cost you somewhere around $2.75, representing a 40 percent increase.
4) Steak: That juicy steak you treat yourself to every once in a while is now 41 percent more expensive, as the average price per pound of steak has risen from $4.40 in 2002 to $6.22 in 2012.
5) Apples: Eating that apple a day to keep the doctor away is also draining 43 percent more from your bank account. In 2002, the average price per pound of red, delicious apples was $0.94. Today, it is about $1.35.
6) Spaghetti/Macaroni: Pasta is still a relatively inexpensive food item. But its average price per pound has surged 44 percent since 2002, rising from $0.91 to about $1.32.
7) Orange juice: If you regularly drink orange juice every morning, you are now paying about 46 percent more than you were back in 2002, as the price per 16-ounce jug has risen from $1.84 to $2.69.
8) Turkey: Thanksgiving would not be the same without a turkey. But the gathering now costs about 56 percent more, as the price per pound of turkey has risen from $1.05 in 2002 to $1.65 in 2012.
91) Ground beef: It is great for making hamburgers, casseroles, and other hearty meals. But ground beef now costs 61 percent more than in 2002, having risen from an average price of $2.28 per pound in 2002 to $3.69 in 2012.
12) Eggs: In 2002, the average price for a dozen large, grade A eggs from the grocery store was $1.03. Today, the average price is $1.80, representing a 73 percent increase.
Learn more: http://www.theblaze.com/stories/2012/10/17/not-just-gas-check-out-the-drastic-price-increases-on-these-21-everyday-items/
Gardening as income generator
Money doesn't grow on trees, alas, but you sure can save money with a vegetable garden. According to the venerable seed company W. Atlee Burpee & Co., a home vegetable garden "…will result in a 1 to 25 cost-savings ratio." In terms I can understand, that means $50 in seeds and fertilizer can produce $1,250 worth of groceries purchased at a supermarket. Where else can you get that kind of return on your money or your time?
… Most people garden for taste. But there's a strong argument to be made that growing your own vegetables is also a cost saving proposition. A family of 4 can save a lot of money growing their own vegetables."
The statistics back up this claim. Factoring in the cost of seeds, fertilizer and water, the study compared the cost of growing vegetables against the cost of purchasing those same vegetables in a grocery store. According to Burpee, The 1 to 25 ratio was arrived at by averaging the savings for several different vegetables. For example, corn is not a big cost saver. You don't get a high yield in a small space and, in season, corn is inexpensive to buy. So, as delicious as fresh corn is, home grown corn only has about a 1:5 cost-savings ratio.
On the other hand, tomato plants will produce all season. Beefsteak tomatoes offer about a 1:50 cost savings ratio. Those expensive orange bell peppers come in at a 1:100 ratio. According to Burpee, "By choosing vegetables that are easy to grow and produce well, a family could spend $100 on seeds and fertilizer and grow $2,500 in herbs, lettuces and vegetables. …Over a five month period, if they refrained from purchasing store-bought produce and ate only the produce that they grew, they could save $2,400 in five months."…
You can read the full article HERE.
Image courtesy of savit keawtavee at FreeDigitalPhotos.net